Portakabin host #MIM virtual breakfast morning
Member News
In the name of challenging the erosion of British industry, the Made in Group has relaunched its famous breakfast mornings in a digital format. The first event for October saw leading modular building specialists Portakabin host the event.
On Thursday 1st October at 9 am over 20 Made in the Midlands members gathered on Zoom to network, share best practice and learn more about the hosting member Portakabin.
This event, along with the Made in Yorkshire's Rocol breakfast morning, marked a special occasion as it saw the launch of our breakfast boxes. Each member who signed up to the event was given a goodie box with items such as coffee, tea, granola bars and information leaflets from the hosting member. This has allowed the Made in Group to bring a more authentic feel to breakfast mornings. However, members must sign up at least 1 week before the event to receive their box of goodies.
The event began with a short welcome from Jason Pitt, CEO of The Made in Group. Jason spoke about the up and coming project's members can expect from the Made in Group including Made Futures due to launch in February.
Following the welcome from Jason, Portakabin's Matt Stevens, Business Development Manager, took to the virtual stage to hold a presentation all about the company and their offerings.
Leading modular building specialist Portakabin offers a range of modular buildings suitable for the needs of any organisation from schools to manufacturing. Operating in 10 across the globe, the firm produces modular buildings from concept to completion. In their most recent endeavours, they have been helping businesses increase social distancing measures.
Matt offered members some informative insight about the company including the fact that the modular buildings they offer are 50% faster than a traditional build, produce 90% less waste which means there is 90% fewer vehicle movements.
For companies looking for a temporary structure with a high-quality working environment, Portakabin has the solution and capability to deliver within just a few days. This has been great for those companies needing space to adhere to social distancing measures, with little disruption on-site during the build phase.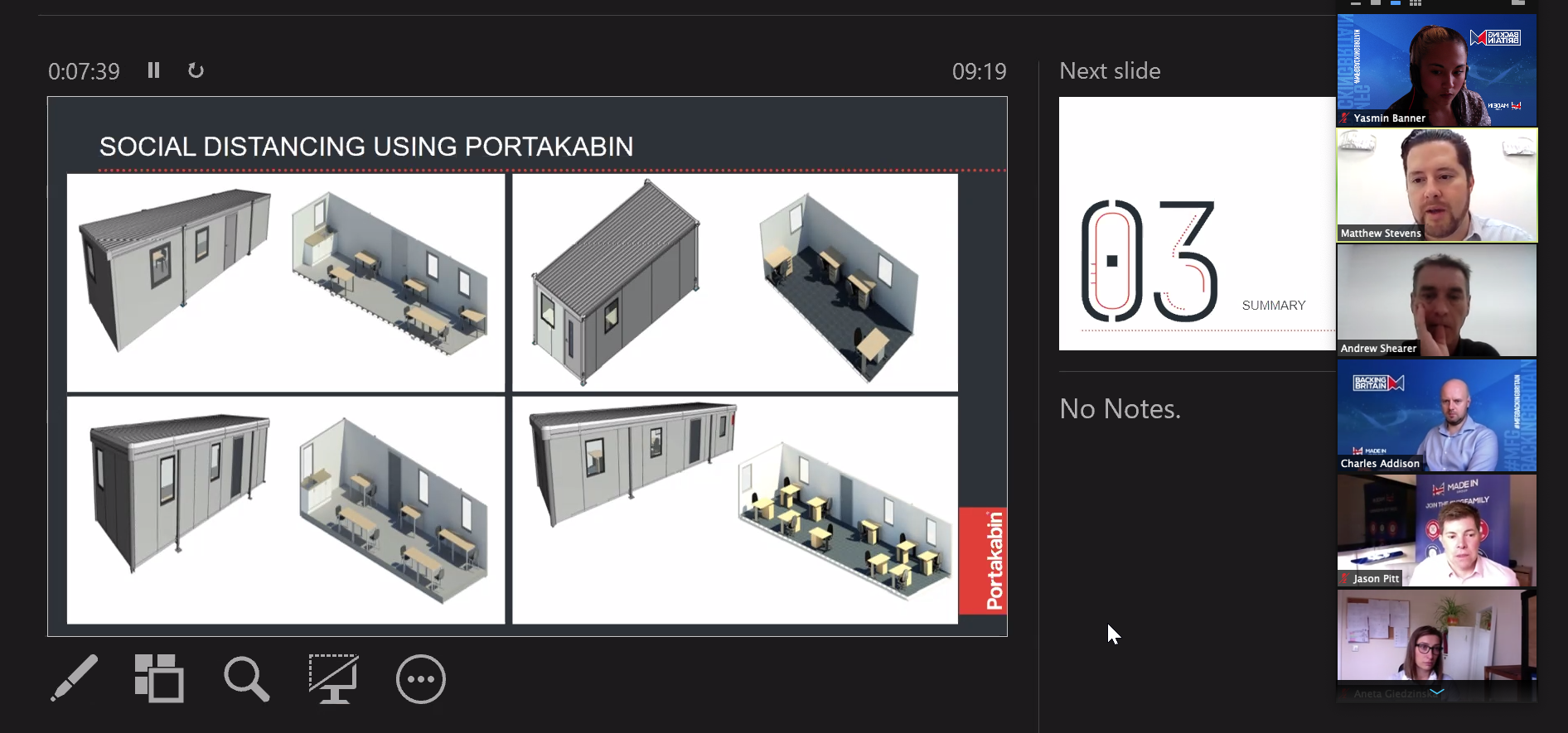 Portakabin has seen a very successful year in terms of business, regardless of the pandemic which has caused a lot of disruption, Matt mentioned that the firm may even beat last year's record number of sales. This has been the result of companies needing extra space quickly and producing modular solutions for the NHS.
After Portakabin's presentation, the attendees had the chance to network in smaller groups using "Breakout Rooms". Attendees were sent into two of these 15-minute networking sessions to socialise and discuss common challenges and solutions regarding current UK industry trends.
You can discover up and coming Virtual Breakfast Mornings here. And make sure to receive your FREE breakfast goodie box by signing up to our VBMs 1 week before the event!